Skywriter HPX M-10 (10W full RGB, Mercury control)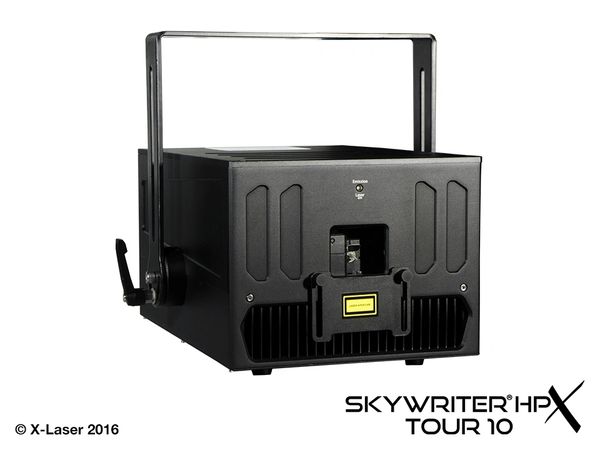 Skywriter HPX M-10 (10W full RGB, Mercury control)
Skywriter HPX Tour 10/20/30/50 systems are built to order and require a 4-6 week lead time. Please contact sales@x-laser.com for more info, demo photos/video and any more information you need.
Quick details:
- High-speed scanners upgradeable to 60K+
- Complete control from a lighting console using X-Laser Mercury Laser Control (DMX, Art-Net, sACN)
Our new Skywriter HPX Tour 10/20/30 units are the ultimate in performance, value and brightness. The HPX Tour 10/20/30 series projectors smoothly handle the rigors of the road, and also make for spectacular permanently installed lighting fixtures. The HPX Tour 10/20/30 units boast up to 30W of raw, full RGB laser power, to easily produce bright and attention-grabbing effects in even the largest venues. Combining that much power with its precision 30K graphics scanners, the HPX Tour 10/20/30 systems can also produce enormous image projections up to 300 feet away at sizes hundreds of feet tall. You can produce the exact effect you want thanks to a bevy of customizable control options, and advanced color mixing technology gets you the exact colors needed for your setting. Efficient, robust and compact, the HPX Tour 10/20/30 systems can elevate your lighting rigs to levels never thought possible.